<<< Previous page
-
Next page >>>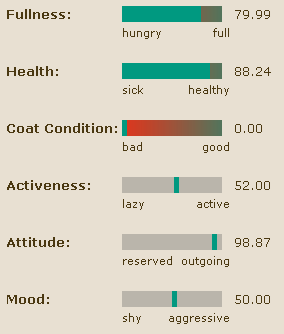 Once you own a cat, you are responsible for its care. You can directly influence fullness, health and coat condition. Be careful -- a cat's mood will get "worse" (either aggressive or shy) if the average of a cat's fullness and health is less than 80!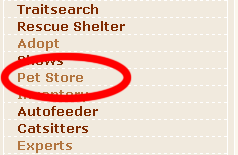 To feed your cat, you first have to buy food from the pet store. Basic Food is the one you want and can be bought in any quantities. On your cat's page, click the "feed" button to feed 10 units of food. Once you have more than a handful of cats, you may also want to invest in an autofeeder, but it's a convenience, not a necessity.
A cat's health can be brought up by taking it to the vet. Click the "vet" button to increase your cat's health by 10 points. This can be done as often as needed if the cat's health is below 30 -- after that, you can take it to the vet once a day. You'll have to keep coming back each day if your cat is not in perfect health.
Coat condition is not as important as fullness and health (only when entering your cats into shows). Coat condition can be improved by using some of the items that are available in the pet store. Longhair cats require more grooming than shorthair or hairless cats.